The Center for Green Schools at USGBC is excited to announce that it is partnering again with the Green Schools National Network to co-present the "Best of Green Schools 2017." The Best of Green Schools recognizes the people, schools, campuses and organizations making a big difference in creating green schools for all students.
2016 saw even more progress for the green schools movement. Schools, districts and states made bold and exciting commitments to advance environmental performance, health and wellness and sustainability and environmental education. We have a lot to celebrate, and if not for the outstanding efforts of thousands of leaders and volunteers across the world, we wouldn't be where we are today.
Best of Green Schools celebrates the hard work being done to push the green schools movement forward. Last year's honorees included schools with innovative and integrated curriculum that represents the best that 21st century learning has to offer, policy makers who've made environmental sustainability core to their platforms and legacies and organizations that came together on the national level to advance healthy schools for all.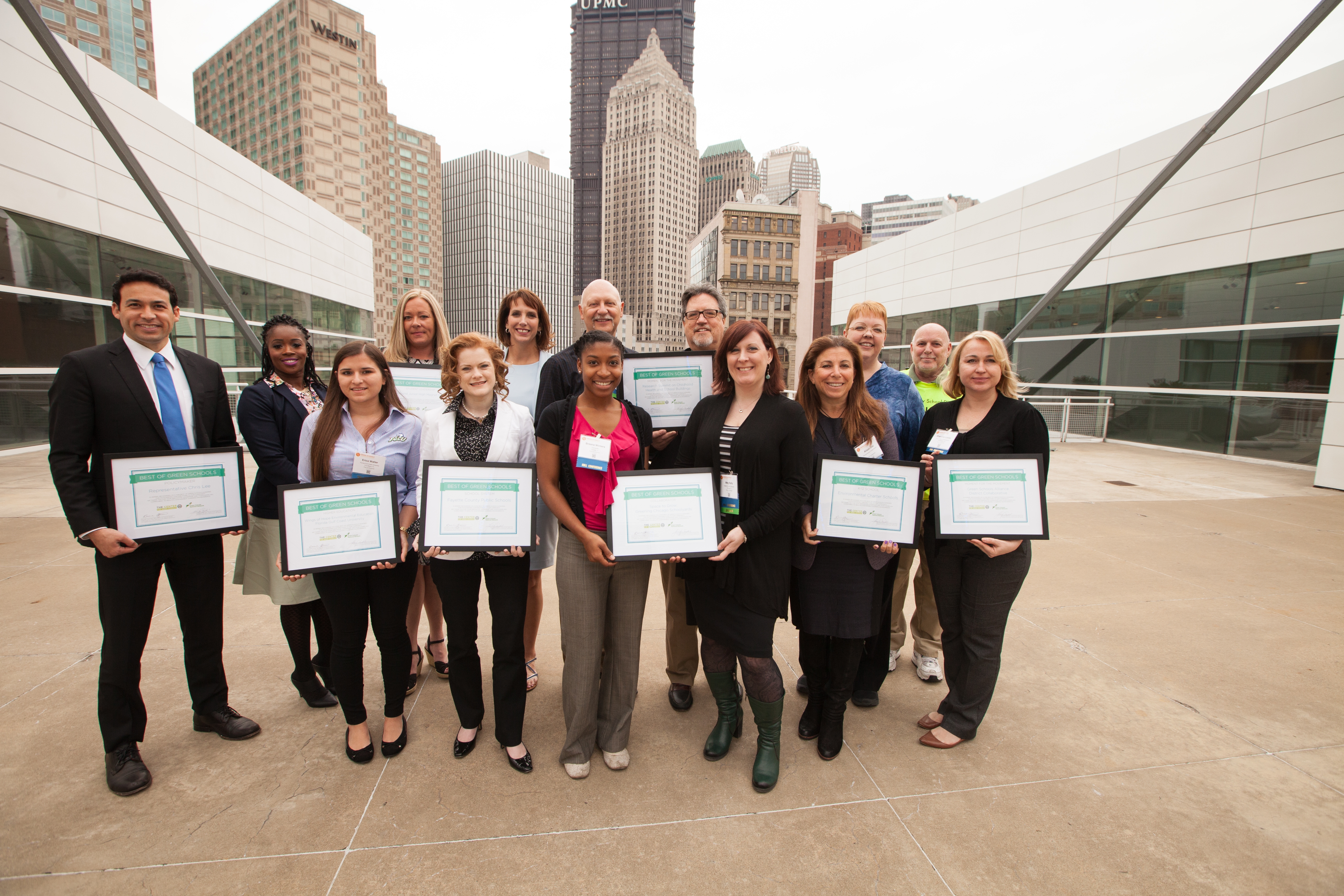 The 2016 Best of Green Schools winners.
If you or someone you know is making significant strides toward creating more sustainable schools, we want to hear from you! You may submit nominations for yourself and others.  The call for nominations closes on Feb. 14, 2017.
Award recipients will be announced at the 2017 Green Schools Conference and Expo, March 21–22 in Atlanta, Georgia. This annual gathering of innovators in the green schools movement is the perfect moment to celebrate the leadership embodied by the awardees. After you submit your nomination, register to attend the conference so you'll be on hand in Atlanta for the awards. Applicants are not required to be in attendance at the conference to receive an award.
2017 Best of Green Schools categories and criteria
K–12 School: Recognizing schools that have consistently modeled exemplary green school practices and share what they have learned with external communities. 
School System: Recognizing school systems and districts that have created long-term partnerships, demonstrated a commitment to systemic change and shared best practices with external communities. 
Higher Ed Institution: Recognizing higher education institutions or faculty members who have made a significant contribution to the K–12 green schools movement through partnership, research and/or scholarship.
Policy Maker: Recognizing individuals who have demonstrated exemplary efforts in promoting policies at the local, state or federal level that support the necessary systemic change to ensure that all children can attend a green school.
Ambassador: Recognizing individuals who have demonstrated exemplary efforts in promoting green schools in K–12 classroom settings, and have engaged community organizations to create systemic change to strengthen the green schools movement and create a more sustainable future. 
Collaborator: Recognizing organizations and governmental agencies that have made substantial contributions in advancing the green schools movement.
Student Leader: Recognizing K–12 students who have demonstrated exemplary efforts in promoting improvements to their schools and communities. 
Business Leader: Recognizing private sector organizations and individuals who have made substantial contributions in advancing the green schools movement.
Transformation: Recognizing investments of time, energy and resources to transform a school, school community, event or policy into an exemplary model for the green schools movement.
Moment for the Movement: Recognizing events, initiatives or happenings that significantly advanced the green schools movement.