At the Center for Green Schools, hands-on environmental and sustainability education is an essential part of our mission for our activities in schools and in Learning Lab.
Sara Dykman, a 32-year-old field biologist from Kansas, is a perfect example of someone combining an eco-centric mission with teaching young people about the environment. Dykman is in the middle of a 10,000-mile bicycle ride to observe and study monarch butterfly migration. As millions of the butterflies make their annual journey from their winter home in Mexico to Canada for the warmer months, Dykman is accompanying them on her bike. Learn more about her journey.
Joan Leavens, Coordinator of Sustainability and Community Engagement for the Shawnee Mission School District, caught up with Dykman during a stop at Tomahawk Elementary in Overland Park, Kansas, where she talked to schoolchildren about bike riding, butterflies and the Earth.
What made you decide to follow the butterfly migration on a bicycle journey?
I decided to follow the monarchs by bike because I love bike touring, I wanted to experience the monarch overwintering sites in Mexico, and I wanted to be part of the solution to the decline of the monarch migration. Biking with monarchs also seemed like the perfect "next adventure" for my education-linked adventure project, which started in 2010 with a bike tour to 49 states. I saw the potential of using my trip to add a human scale to the migration and to be one of many monarch resources teachers can use to create real-life learning opportunities for kids.
When you visit schools, what do you focus on teaching about the environment?
For me, my presentation is less about teaching the mechanics of environmental issues, and more about showcasing what lifelong learning and stewardship looks like. I want kids to share in my excitement for exploring new places, discovering diversity and recognizing our role in taking care of the planet. I typically only have an hour, and I want it to be an hour of positive experiences talking about science, stewardship, adventure, and of course, the monarch butterfly.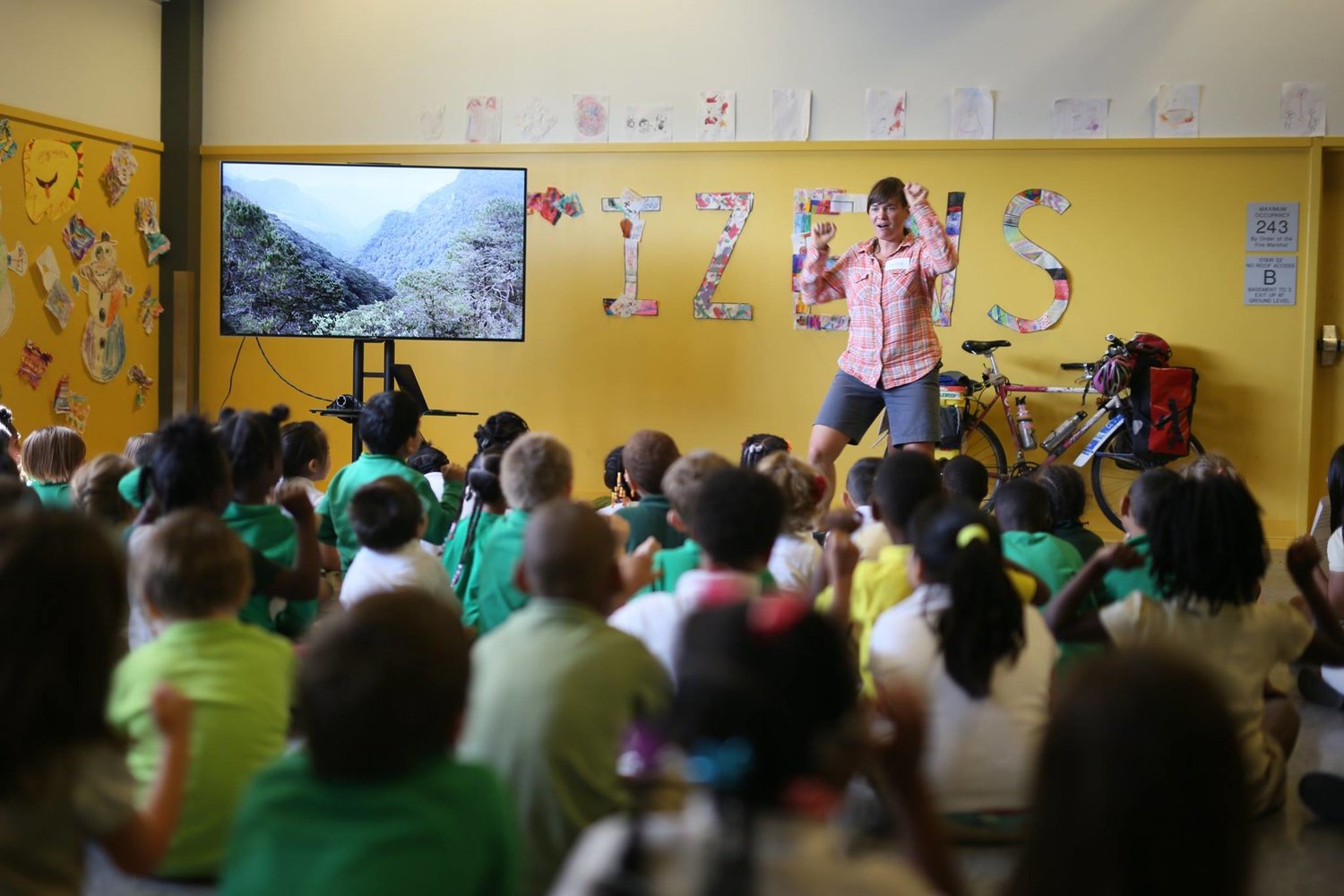 Dykman does her "monarch happy dance" with students in Kansas City, Missouri. Photo credit: Citizens of the World Kansas City.
What is the best way for kids to learn about keeping our world sustainable?
I think the best way for kids to learn about sustainability is to give them opportunities to have authentic experiences in nature and learn how to connect themselves and their actions to the planet. It has been so inspiring to see teachers creating school gardens for kids to grow plants, get dirty and nurture their curiosity. Sustainability starts with developing a relationship with nature.
How has viewing the migration from a bike changed your perspective?
I have seen, from my bike, the obstacles that monarchs and other wild creatures face. Since I am looking for monarchs and their habitat, I notice how hard it can be to find. I've passed miles and miles of green lawns and parking lots that not long ago were prairies and monarch habitat. All of this leads me to understand just how important education and conservation are, and exactly how many people the monarchs are depending on to survive.
Monarchs, and their similarly colored friends the Viceroy, face many obstacles, including habitat loss and automobiles.
Learning Lab resources on bicycling and alternative transportation
Learning Lab resources on nature